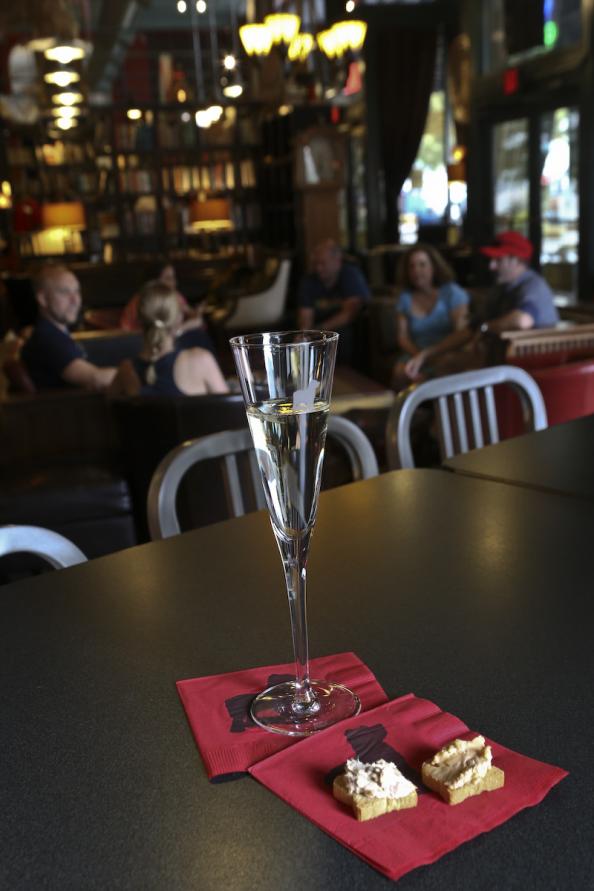 -Sunburst Trout crostini and sparkling white wine at the Downtown Book Exchange-
---
The tour really isn't something locals do, but then again I long ago made myself exempt from that list. After all, I'm a food writer who eats at a restaurant maybe once every six weeks? So here is the disclaimer on this post: I am not a food critic. Never have been and have no interest in being. I write about what producers are doing, and what I do in my kitchen, not how my steak was executed at the newest downtown hot spot. I have respect for the latter (if I dig deep), but no desire to do it. At the risk of sounding like a bleeding-heart bohemian, in a world where most eat only what they have access to, I have always been the type who is glad to consume just about anything if hungry enough.
It's not about knowing the difference between brilliant food and the opposite, maybe it's more a matter of my roots. I grew up in a loving, low-budget household of an avid hunter and have eaten some colorful offerings over the years. Piles of buckshot were regular on our dinner plates growing up. Sometimes my siblings and I even made a game out of who collected the most. Fortunately kids get hungry after playing all day, which is the best sauce for all things squirrel and whistle pig, although nary a sauce was needed for the usual servings of elk, goose, or venison. I am grateful I was fed, and still feel the same way. Though nowadays I don't miss pulling shrapnel from my food (this was really only when we had squirrel or doves by the way). Anyhow, this is a clean story about a sweet food tour in a historical downtown, told by a girl who still loves to be fed, and especially likes to get full.
My friend Lindsay invited me to be her guest for
Eating Asheville
's Thursday
Walking Food Tour
, of which her husband Stuart is the guide. I knew Stu would be entertaining and a good person to follow into a restaurant as a seasoned foodie and professionally trained student of the culinary arts. He is also the handsome face among the talented staff at
Table
. A good person to have showing you around.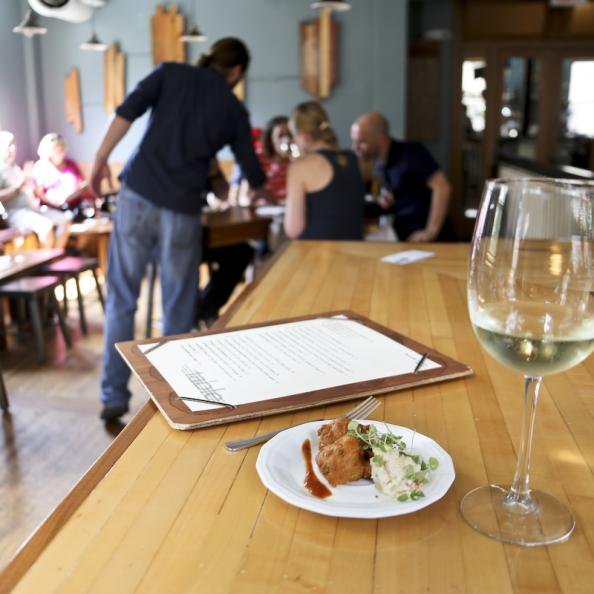 -Shrimp hushpuppies at Imperial-
---
The idea of the tour is to give participants a chance to sample an assortment of downtown cuisine within a fixed price and time period (about 2.5 hours at about $50) while offering educational dialogue on historic Asheville and background on local chefs making waves. For the restaurants/chefs involved, they gain the benefit of catering directly to their prime consumers (tourists) whom they rely on to talk to their friends and tell them how amazing the amuse bouche was at such-and-such while visiting Asheville, and to come back for more. A brilliant way to advertise.
The top of the list:
Cucina 24
. As our first stop after our initial meet-up with sparkling wine and
Sunburst Trout
crostini at the
Battery Park Book Exchange
, (
Cucina's
)
Chef Brian Canipelli
gave it to us right: seared octopus and market cherry tomatoes scattered with pancetta. It was a warm heap of everything you would want in a dish. The octopus was tender, the tomatoes held up to the heat but surrendered easily in a burst of heirloom, seedy juice. The whole dish had a good bit of spice but of the right caliber, tempered by swallows of fine red (I can't remember what it was, but it was from a region of good wine makers probably somewhere in Europe who most likely also eat octopus regularly.) This was the highlight of the tour. Canipelli gave us an ample serving, he spoke about why he does what he does and made us feel welcome before going back to his kitchen to prepare for the evening rush.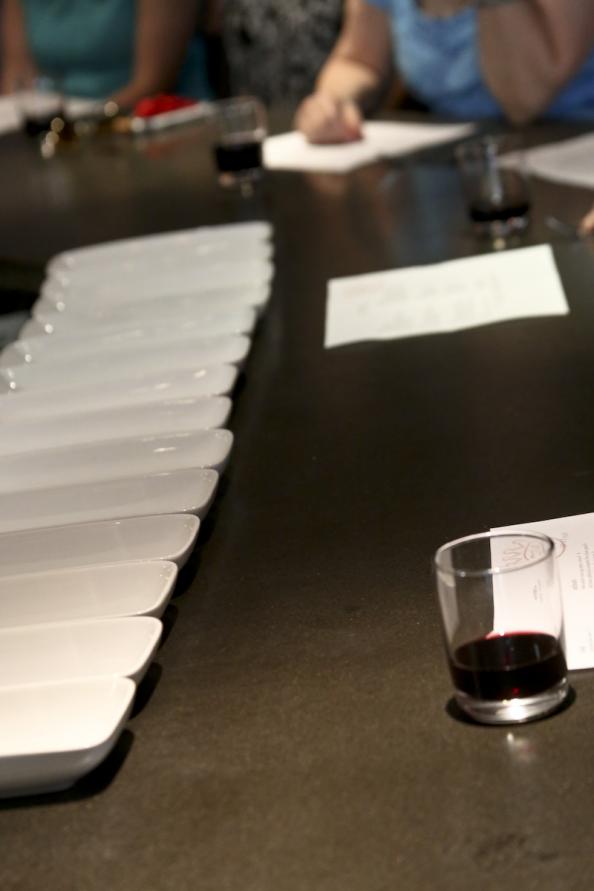 -Plates awaiting octopus at Cucina 24-
---
Then we were off to the next stop, with octopus and red wine priming our bellies. Stuart kept us on schedule without feeling rushed and had us laughing with his charming wit as we strolled from place to place. We were in each space for about 15 minutes, sampling and sipping.
We had shrimp encased in a crunchy hush puppy with house-made slaw, micro greens and white wine at
The Imperial Life
; gelato and truffles at
Chocolate Gems
; orecchiette in a garlicky parmesan sauce with white wine at
Strada Italiano
; okra chips and authentically inspired nibbles with a honey-lime rum cocktail at
MG Road
; and ended the tour with a brisket-and-sweet-roll bang washed down with strawberry sangria at
Zambra
.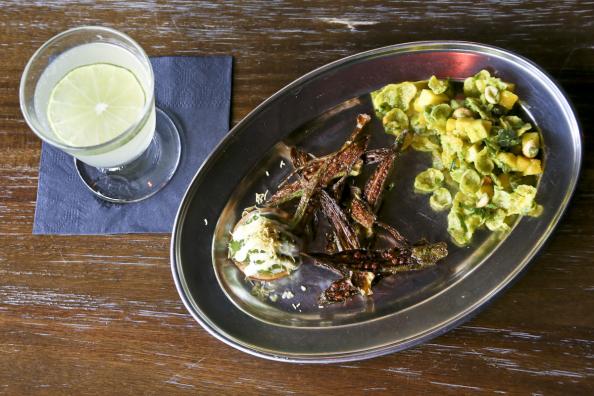 -MG Road-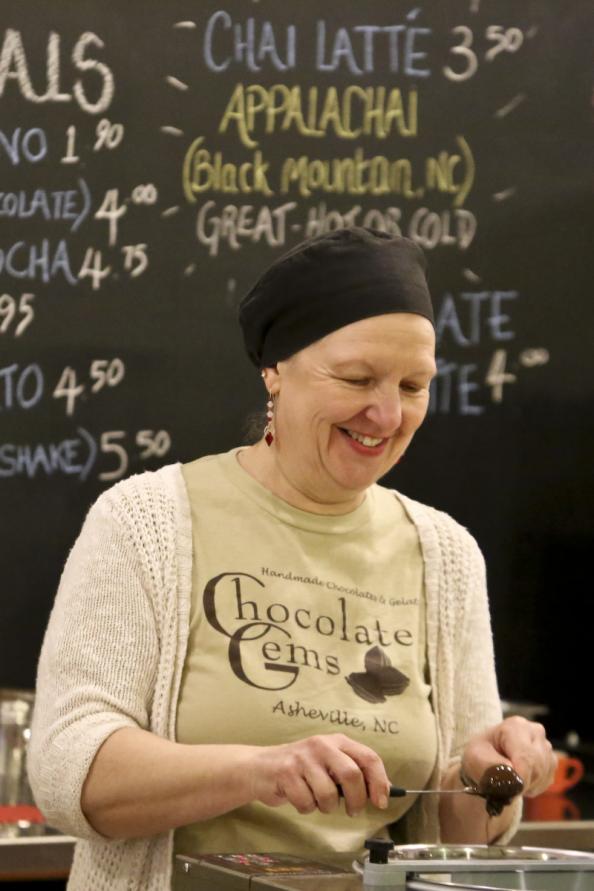 -Truffles at Chocolate Gems-

-Brisket at Zambra-
---
The tour included enough food and drink to feel full and adequately buzzed by the end. I enjoyed getting to know some of the places I would have otherwise glossed over, and took away a healthy desire to have Cucina 24 be the destination for my next evening out.
Here is something I didn't anticipate walking away with----a surprising appreciation for tourists. Aside from the usual gripes this class of individuals attracts, tourists have a strong place in this story. There are clear rewards in the symbiotic relationship between visiting out-of-towner's and talented chefs provided enough traffic to support their artistry. Visitors come here to eat, sip and view, dropping their hard earned cash here while doing so. And at least they are the types looking for an experience we can give them, something not all cities can offer, well beyond an assortment of drive-thrus. We are not getting the Disney World crowd, but people with a desire to know more about why we live here.
A few bites in, I think they got the idea. Sans buckshot.

-At Strada. There I am in the navy stripes.-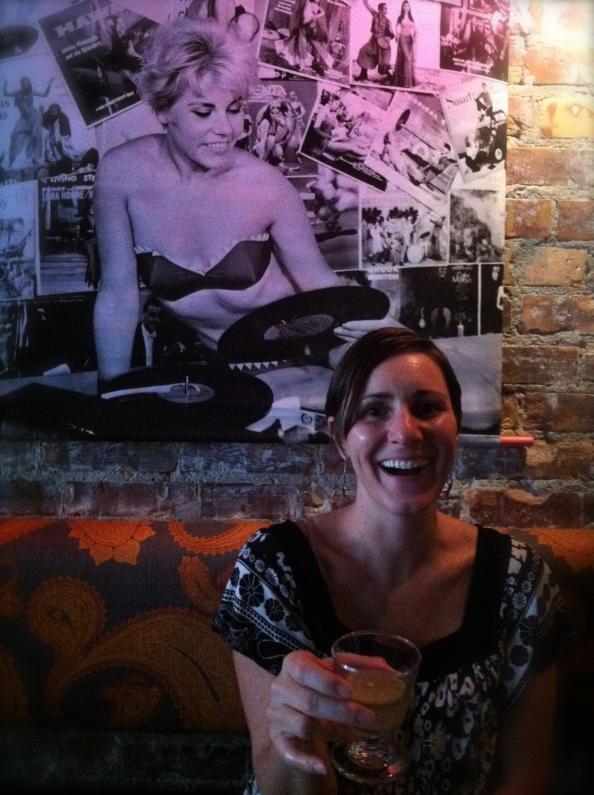 -Lindsay with her rum cocktail at MG Road-
Photographs provided by Eating Asheville's Hank Fuseler (with the exception of the last one) http://hankfuseler.com/